Each Wednesday:  3 course Dinner (Organic & Vegan!) for €9! Lets come together and…. eat.
And: no Mosanto involved! Look at 'the World according to Monsanto'…. and know what you eat!!
Delicious VEGAN food in Zaal 100 (Amsterdam).
During dinner there will be a beamershow by Buurtlicht Kunst!!
Expo of the month: Art from Aja Waalwijk… without comment!
Menu (18-20h):
On Wednesday morning I put the menu on the website!
STARTER
–Soup 
MEAN (surprice!)
–A plate full of GoodVeganFood!!  
DESSERT
–I scream 
Geniet… Bon apetiet!!
Gezellig, lekker VekoDiner in Zaal 100. Iedere woensdag : 3 gangen (eko/vegan!!) & Monsanto vrij voor €9. Vanaf 18u. in Zaal 100. En waarom Monsanto vrij?? Kijk naar 'de Wereld volgens Monsanto' …. en weet wat je eet!! Helaas is de in het Nederlands vertaalde versie van YouTube verwijderd. Dus kijk de Engelse versie hierboven genoemd!
Info enzo:
erik@vekologisch.nl
020-6860739 (Erik) / 06-40755695 (st.VEKO)
Zaal 100: de Wittenstraat 100 (Westerpark),  Amsterdam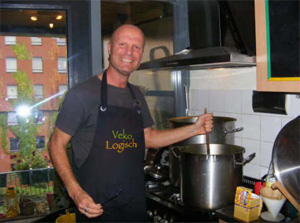 Tijdens de beamershow zien we het werk van 20 verschillende disciplines en kunstenaars uit de buurt: Het Buurt Kunst Licht.
Tanja Henn geeft een korter toelichting en doet een open oproep om met eigen werk te gaan participeren.