18-22u: Honger en Dorst? Kom dan woensdag naar Zaal 100!
VekoDiner met daarna: Dorst!  De avond waar je Goeie Zin van krijgt!
Met lekker eten, singer-songwriters en semi akoestische acts. Vanavond met:
Carly E & Katja Hyung Jung Ji & her group
Dorst! Ooit op maandag begonnen toen op donderdag en nu driemaal op de woensdag!
Menu:
Starter
–Thai carrotsoup
Main Course
– Creamy Veggie Potato Stew
– Spicy black beans with sesame
– Beetrooth salad with mais
– Green salad with grapefruit
Dessert
-Fruit puree with vanille, melon and mango 
VekoDinner this wednesday: All vegan and organic! That means: no Monsanto!
3 courses for just €9. In Zaal 100 (Amsterdam). We serve the food from 18-20h. Come along or make a reservation!!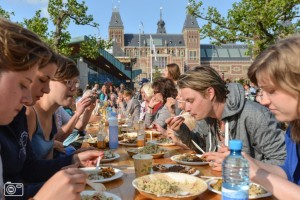 Bon apetiet!!  😉
Good to know:  When everybody would eat like this, there is more then enough for the whole wide world!!!! And we don't need Monsanto… Watch: 'the world according to Monsanto' and… know what you eat!!
Als iedereen zo zou eten, dan is er meer dan genoeg voor de hele wereldbevolking en…
zijn we van Monsanto af! Kijk naar 'de Wereld volgens Monsanto' …. en weet wat je eet!!
Info enzo:
erik@vekologisch.nl
020-6860739 (Erik) / 06-40755695 (st.VEKO)
Zaal 100: de Wittenstraat 100 (Westerpark),  Amsterdam